BRIMFIELD, IL REAL ESTATE AUCTION
Saturday February 02, 2019
10:00AM
Map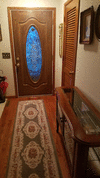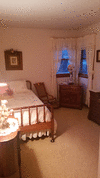 The following beautiful home located at 411 Grace St., Brimfield, IL (directly across from the high school), will be auctioned
REAL ESTATE: This wonderfully well-kept property (NW ¼ sec. 24-10N-5E Lot 9 and S25'Lot 10) offers an attractive brick home with 3 bedrooms, very nice kitchen and dining area, large living room, 2 full baths, and a very lg. 3 season glassed in sunroom with sliding windows and French doors. The basement is full, dry and is equipped w/kitchen, family room and nice bar area. The square footage of the house is listed as 1328 square ft., but that does not include the 550 sq. ft. attached garage, sunroom or basement. The garage has new opener for auto. door. The roof is one yr. old, gutters are all new and the living room has a new bay window and new door. The furnace and central air installed in 2012 work well. The house was built in 1965 and has been maintained and appears like a new home. The property includes another partial side lot that expands the already nice lg. yard. The location and condition of this home make for an amazing investment opportunity. Terms are non-refundable 10% down day of sale with balance to be pd. in full at closing in approx. 30 days.
AN OPEN HOUSE WILL BE HELD ON THURSDAY JAN. 3RD, 2019 FROM 5-6:30 P.M. Contact the auction company below for possible other scheduled showing times. Also, watch for the personal property auction ad to be held on Sunday Jan. 20th, 2019 in Laura, IL.
MARY SLOAN ESTATE--SELLERS
FOLGER'S AUCTION SERVICE, INC.—WILLIAMSFIELD, IL (JIM FOLGER AND JIM GIBBS—AUCTIONEERS)
PH. 309-368-6314 OR 309-337-2150
Email: cat.2009@hotmail.com
For pictures, full ads and upcoming sales visit our website at www.folgerauction.com and LIKE US ON FACEBOOK for more pics and updates.
Terms are cash, check or credit card (3% bank fee on credit cards only).
ATTORNEY FOR SELLERS—Whitney and Potts Ltd—Elmwood, IL Ph. 309-742-3611