Living Estate Auction-Thursday May 24th @ 5:00pm
Thursday May 24, 2018
5:00PM
Map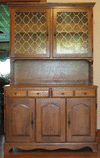 Living Estate Auction
Location; 407 S. Burson Street, Yates City, IL., 61572
Thursday, May 24th 2018 @ 5:00p.m.
Like us on Facebook: Culver Auction Service www.auctionzip.com/2550 or www.culverauctions.com
Mobile Home-Lawn Mowers: 9x50 Mobile Home w/axels to be moved within 30 days from auction date, Poulon Pro 48" 20HP(Like New), Simplicity 48" 14 HP(not running)
Display Case-Collectibles-Antiques-Die Cast Toys: Sante Fe Safety Award Belt Buckle, Metal Car Banks, Pocket Knives, Hand Made Antler Hunting Knife, Marbles, Cargil Safe Driver Award Badge & Pins, Griswold/Wagner Cast Iron Dutch Oven, Wizard Of Oz Display Dolls(Dorothy, The Cowardly Lion, Tinman, Scarecrow), Other Wizard Of Oz Memorabilia, Antique Car Model Radio, Rope Bed, Serpentine Front Writing Desk, Quilt, Doilies, Vintage Clam Shell Lamps, 50's&60's Rodding Books, 1950-80's Car Book, Vintage Collectable Car Parts, 40's & 50's Car Parts/Hood Ornaments & Others, Vintage Ford Tailgate, 1903-1978 The Ford Road Book, Milk Can, 26" Mens Schwinn Bike, Bisque & China Dolls, Repro Samuri Swords, Beer Glasses, Die-Cast Toys:100+ Die-Cast 1:18th & 1:24th Scale Ertl Dyersville Models, Ertl Dyersville Toy Tractors 1:18th Scale(JD, Ford, IH, Farmall), Other Smaller Die-Cast Models,
China-Glass-Paper: Alexandria Diamond China Service For 8, Various China Pieces, Lots Of Owl Figurines, #204 Owl Cookie Jar, Animal Figurines, Glass: Pressed & Pattern Glass, Platters, Serving Plates, Carnival, Lenox, Blue Bird Of Happiness, Milk Glass Pitcher/Glasses, Art- Paper: Rodding Books 1950-60s, Good Muscle Car Coffee Table Books, Framed Prints,
Modern Furniture-Kitchen: 47" LG Flat Screen TV, Repro Tombstone Radio, Wall Clocks, Cassette Tapes, Sweepers, Board Games, Holiday Decor, Lots Xmas, Kitchen: Pots/Pans, Baking Sheets/Pans, Correlle Ware, Stone Ware Dinner Service, Cooking Utensils, Tupperware, Rolling Kitchen Stand, Water Cooler, Small Kitchen Appliances, Flat Ware, Canning Jars, Furniture: French Provincial Writing Table, (2) Horizontal Door Glass Display Cases, Dressers, Double Bed, Wood Wardrobe, Maple Coffee Table, Walnut China Hutch, Set Back Maple Hutch, Sewing Cabinet, Folding Chairs, Tall Cairo Cabinet, Glider, Lamps, Round Oak Table W/4 Press Back Chairs
Linens: Blankets, Throws, Afghans, Towels, Sheets, Pillow Cases, Material, Quilt Pieces, Sewing Items, Rag Rugs, Table Clothes
Tools-Lawn-Garden- Sporting Goods: (2) Craftsman Mechanics Stackable Tool Boxes, Wire Feed Welder, 6" Shop Vise, Commercial Wheel Barrow, 10" Craftsman Table Saw, (2) Air Compressors on Wheels, Electric Stapler, Long Handled Tools, Small Hand Tools, Boxed End Wrenches, Pliers, Wrenches, Sockets, Ratchets, Extensions, Drill Bits, Allen Wrenches, Hardware (Lots), Floor Jacks, Tool Caddies, Battery Charger, Drop Cords, Automotive Cleaners/Wax/Oil, Kerosene Heater, Push Mower, Craftsman Weed Eater, Yard Ornaments, Christmas Ornamental Yard Art, Lawn Chairs, Patio Umbrella, Patio Table, Weber Grill, Gas Grill, Steel Fence Post, 2 Wheeled Pull-Type Yard Cart, Pull-Type Lawn Sweeper, (2) Binoculars, Life Jackets, Coleman Lanterns, Turkey Fryer, Coolers,
Auctioneer's Note: Offering a huge collection of die cast and good selection of tools. Statements day of auction supersede all others. Two rings will be ran, so bring a friend.
Owners; Mr. & Mrs. James Moats
Culver Auction Service-Lic#440-000447 Farmington, IL 61531 ph:309-370-5305-Tim Placher - Jimmy Johnson - Andrew Whitsitt - Bill Homan Jr.