PUBLIC AUCTION
OF ANTIQUES, JEWELRY, TRUCK,
OFFICE SUPPLIES, FURNITURE AND MORE
Sunday January 28, 2018
12:00PM
Map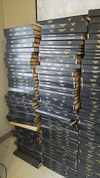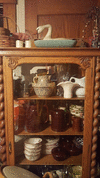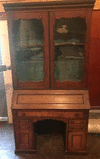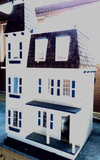 The following will be sold at the Millbrook Community Center in Laura, IL. The building is located right off of Rt. 78 in the NE corner of Laura
Added: Doll house hand built and fully furnished.
TRUCK: 2000 Chevy S10 pick-up w/98,000 miles, good body, beige in color and in good running cond.
JEWELRY AND SMALLS: Ant. 14K and garnet pin w/matching ring—sm. emerald earrings--.925 Sir Wash. Irving pin--.925 old Heirloom charm—nice old hair fob-old MW pin w/green stone—nice .915 necklace, ring and bracelet set w/pink and gray quartz—old .925 sword pendant—10k diamond heart necklace—CL 14k earrings—ant. 10K wedding set--.925 bracelets, pins, rings, earrings, necklaces—nice colored and other rhinestones—pearls--very nice costume (Stimmel, 1928, Kramer, W. Germany old nice set, and more)-shoe clips—Col. Exp. Badge—100 yr. odd Fellows badge—very old Abingdon Rebekah Lodge items (50 and 100 yr. pins, #2018 beehive bank, #511 law book, badges, ribbons and more)—Venitas Lodge sm. New Yr book—1800's unique perfume flask—col. Exp. Shell coin purse—F.M. Young Abingdon jeweler box and CH Trask Galesburg—very old Lombard pin—old monacle eye glasses--tin types (Wales boy w/crown, child, Dr., war uniform, Worlds Fair)—Yates City Funks bullet pencil—black mem. game tokens—old Liberty Loan cannon token--very old button coll. of all types—old beads—1/2 mile 1910 1st prize badge—old sewing notions and travel kits—Petrini's Farmington, IL pin—old marbles and jacks—turquoise and other Bolos—Prairie Farmer WLS ruler--sm. Stanley Dealer adv. fan—10 yr. Red Cross pin and much more.
ANTIQUES, GUNS AND PARTS AND COLL: Many old ledgers out of the Home Shopper full of original Williamsfield Times, Elmwood Gazette, Farmington Bugle, yates City Banner and Princeville Telephone Ed., (years range from the 1950's to 2000)—T Barker double barrel gun w/twin hammers—pellet gun—22 for parts—22 oct. barrel short gun w/broken springs—other part guns--prim. ceiling tin—galvanized rough pieces—other primitives--Longaberger baskets—ant. marriage buggy picture on canvas—crocks—Lion Walnut/Date prim wood adv. box--other old adv. boxes and bottles—prim. Baby savings bank—old mustard bank—wicker purses--nice glassware--old postcard albums (Anheuser Busch Brewing card, western and more)—Abingdon Huggins Funeral Home fan—cards—linens—1890 Herald train wreck paper—old spool holder—1892 A Booth Lenton price list—1888 crown jewels handbook—1953 10 cent People's sm. magazine—Canton, IL Songs of Liberty old book—1845 signed bible—Schnell's pint dairy bottle—Reuben glass vase—1871 Bunyan's complete works—much more.
FURNITURE: Very nice old secretary (see pics)—Carolina 50 yr old oak table w/6 black oak chairs—nice queen size bed w/post. Mattress and box springs—matching chest of drawers and dresser w/mirror and night stand—5 pine prior Elmwood High School desks--twin Jenny Lind bed frame—ant. curved glass oak china cabinet—prim. painted long sofa table-ant. settee—NB 66" hutch--oak commode—ant. cane bottom chairs—nice knee hole desks w/ marble style tops—folding table—ant. wood file cabinet—metal files—modern nice swivel office chairs--misc. furniture.
MISC., OFFICE AND HOUSEHOLD: Industrial paper cutter kW-PR10 #3971 (out of Home Shopper)—Heat seal H320 laminator—Royal electric cash register—metal stands—older paper display rack—packs of new color, copy, and carbonless paper (8 ½ x 11 and 11 x 17)—lots of nice misc. office supplies—Singer 6136 port. sewing machine—lg. roll of new beige nice carpet—4 good Armstrong True Trac radial 70 tires on mag wheels—water cooler—power and hand tools, elect. conduit, shop vacs, push Lawn Boy mower-- Craftsman 8" table saw, other garage items—Tonka and other toys—nice All Pro 3 speed women's bike—mounted realistic singing buck—NB lights--dishes, books, kitchen, misc. household décor and items of all types.
JOAN TABB, HOME SHOPPER AND OTHERS SELLERS
FOLGER'S AUCTION SERVICE, INC.
JIM FOLGER AND JIM GIBBS-AUCTIONEERS
WILLIAMSFIELD, IL
PH. 309-368-6314 OR 309-879-2373
EMAIL: cat.2009@hotmail.com
For full ads, updates, and upcoming auctions, visit our website at www.folgerauction.com
LIKE US ON FACEBOOK