Collectibles & Personal Property Auction
Saturday February 03, 2018
10:00AM
Map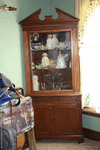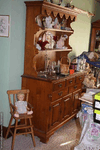 Alexis Community Center
204 West Palmer Ave, Alexis, Illinois
Automobile: 1992 Ford Escort Wagon, 69,000 miles
Antiques & Collectibles: Childs Metal Wagon; Cast Iron Cauldron; Picnic Basket; (2) Daisy BB rifles; Steamer trunk; Marbles; Ford Model "A" Parts book; Coffee Grinder; Cranberry, Cobalt, Satin glass; Spode "Blue Room" collector plates; Tea Sets; Doll cradle; Many Collector dolls; Cobalt hen on nest; Pitcher & Bowl; old swivel office chair; Railroad Picture; Rock Island Rt Train Engine; Lefton; Costume Jewelry, Jewelry boxes and much, much more.
Garden, Yard & Tools: Troy Bilt 18 H.P. Riding Mower 42" deck w/ Bagger; Troy Built S.P. Push Mower w/bagger; Remington 16" Electric Chain saw; Worx String trimmer, Ignes Garage Fridge; Dremel tool; B & D Mouse and finishing sanders; Shop Vac; garden tools; hand tools; 16 ft. Aluminum extension ladder; 8 ft and 6 ft step ladders; Saw horses; Gas & Charcoal grills; Electric Snow Broom; Sump Pump; 2 Wheeler with pneumatic tires; 8 ft windmill; Yard Statues; Porch Swing; 4 pc Wicker Patio set (Very Nice); 6 pc Wrought Iron Patio Set; 3 pc Iron Patio set; Patio Table and much more.
Furniture & Household: Pine Bookshelf; Cherry Buffet; Frigidaire Dehumidifier; Base Cabinet; Cedar Chest; Trestle Table; 4 Maple Chairs; Kitchen Wall Cupboard; GE Microwave; Bakers Table; Maple Dining Table w/ 6 chairs; (2) Tell City Maple Hutches; Duncan Phyfe corner hutch; Parlor Chairs; Maple rocker; Pie Cupboard; Oak Writing Desk w/ Pigeon holes; Rocker Recliners; Love Seat; Oak Hall Tree; Maple Coffee & Lamp tables; Smoking Stand; Kimball Spinet Piano; Singer Sewing Machine w/ cabinet; Record Player; Athens 4 pc Bedroom Suite; Maple Full Size bed; Kroehler Chest of Drawers w/ mirror; Quilt Rack; Chest of Drawers; Christmas Decorations; Granite Canner; Mirro Canner (like new); Corelle; Pyrex Mixing Bowl; Fire King Pot & Pans and much more.
Marjorie Quilty Estate; Brian Dillbeck, Executor
Myron Miller (309)368-2990 IL Lic 441.000311