ESTATE AUCTION OF 5 ACRES AND RESIDENCE IN GALVA TOWNSHIP, HENRY CO., IL
Saturday February 24, 2018
10:00AM
Map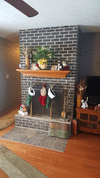 The following 5 acres, with nice brick home and outbuildings, will be sold on location at 21206 N 400 Ave. Galva, IL 61434 (located approx. 2.5 miles N of Galva on 17/5 (Center Ave. or Atkinson Blacktop), then east .7 miles on 400 Ave. to property site.
PROPERTY DISCRIPTION: This property consists of 5 acres, a very nice remodeled brick residence, machine shed, 3 grain bins, livestock shed, crib, older residence and other out buildings. The machine shed was built in 1974. It is 60 x 105' and is open. The livestock shed is newer, measures 54' x 65' and is metal sided. The other outside buildings are of average use and stability. The second home on this property was a split level home built in 1980, has a furnace and hot water heater, but has not been updated since it was built. The property has a good 585 ft. well with the pump at 460 ft. and an ample sewer system. A 500 gallon LP tank will sell with the property.
RESIDENCE: The 2300 sq. ft. brick home was mostly remodeled in 2008. The kitchen has nice new cupboards, countertops and a new floor. The kitchen also contains a built in laundry closet. The house has a large dining room, 4 bedrooms, 2 ½ baths, a sm. family room with wood burning fireplace, ample closet space with good flooring and paint throughout the house. New copper plumbing was installed in 2008, along with some new windows and doors. The roof was new in 2004. There is a poured floor half basement with inside entrance that has all new windows. The rest is crawl space. The home is also improved with a nice attached 2 stall garage. The furnace with forced central air was installed in 2008 with a secondary heat pump. Nine inches of insulation was blown into the attic to further insulate this home. This is a very attractive home and is move in ready.
NOTE: This property has a great country location in the Galva School District and is very desirable as a family home or as a wonderful investment property. There will be an OPEN HOUSE on Thursday, January 25th from 4-6:30 p.m. You may also view this property at other arranged times by contacting the Auction Company below. Terms are 10% down the day of sale with the balance to be pd. in full at closing in approx. 30 days. Purchase is subject to the seller's approval. See pictures online and our Facebook page.
ALISON HARLAND STRAND ESTATE AND ANNETTE BOEHM—SELLERS
FOLGER'S AUCTION SERVICE, INC.
(JIM FOLGER AND JIM GIBBS)
WILLIAMSFIELD, IL - PH. 309-337-2150,
309-879-2373 OR 309-368-6314
EMAIL: cat.2009@hotmail.com
For pictures, updates and upcoming auctions, visit our website at www.folgerauction.com
LIKE US ON FACEBOOK
Attorney for seller—Reynolds (Rip) Everett—Galva, IL Ph. 309-932-2001