LARGE ESTATE AUCTION
OF GUNS, COINS, TOYS, KNIVES,
WATCHES AND MORE
Sunday November 12, 2017
12:00PM
Map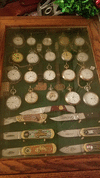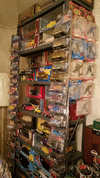 The following first auction of this large estate will be sold at the Millbrook Community Center Building in Laura, IL (The building is located just off of Rt. 78 in the NE corner of Laura)
NOTE: The coins will begin selling right at noon on one side of the building, while a second auction will be running on the other side. Guns will sell at approx. 1:00 (proper FOID required).
GUNS: Colt style 44 cal. black powder—Richland Arms 44 cal. black powder—H & R model 633 32 cal.—American double action 32 cal.—Iver Johnson 22LR revolver—Atna 32 cal. revolver—Smith and Wesson 32 cal. revolver—Mossberg 500AT 12 ga.—Snake Charmer .410 ga.—Universal Enforcer 30 cal.—Crescent Arms 12ga. SGL—Westernfield model 32 22LR—Stevens 22LR SGL—Winchester 1890 22LR—Armalite AR-7 22LR—Mossberg 42M 22LR—Winchester model 67 22LR—2 Eclipse Hercules 12 ga. DBLs #6212 and #7212—Stevens 12 ga. SGL—Sendra XM15 5.56 cal.—Japanese 44 cal blank revolver—Crosman 22 cal. pellet pistol--Daisy BB gun—wooden cleaning rods and barrels—many ammo boxes full of all types and sizes of ammo—misc. items.
COINS: This is a lg. coll. of coins. The following are just a few highlights. Coins will be selling for most of the duration of the sale. Many dates of silver American Eagle coins (some unc.)—1933 Double Eagle proof set—many, many proof sets--Morgan and Peace dollars of various dates—Barber halves—Mercury and Barber dimes—1936 Walking Liberty—Silver quarters—23 Indian Heads—V and other nickles—1878-1895 Million Dollar Morgan proof coll.—US Pres. coin set—First and Last yr of Double Eagle proof set—Silver 1776-94 proof set—Babe Ruth 22K baseball card—Pres. coins—64 Kennedys—3 Chamber of Commerce ¼ cent coins (Kewanee, IL)—Peoria Railway Co. token—Toulon 125 yr. token—Patriotic coin coll.—2014 Baseball Hall of Fame coin—JFK mint mark coll.—US mint dollar coins and Ike dollar collections—foreign coins—coins too numerous to list.
WATCHES AND KNIVES: 2 Cat watch fobs—Harley silver fob--Cletrac fob--many pocket watches, including Hamilton, US Firearms, Waltham, Elgin, New Haven, Bulls Eye, IL Watch Co., JG Sheffield (Ford), Elgin Nat.—NRA pistol wrist watch—other watches—KNIVES: Lg. coll. of pocket and other knives of all types (some highlights are Case KKK pocket knife, Colt Army Peacemaker, Ford F150, Ford model T, Pony Express, Harley knives (some in boxes), Pearl Harbor, US M-16 bayonet, other military knives and much more.
TOYS: Large coll. of NB farm and cars, antique trucks and tractors, Tonka, tin toys, model, trains and more—EXAMPLES: Lionel Pacemaker orig. train set (in box)—Santa Fe special train set--NB Racing Champion toys (1 of 10,000 mint)—Hotwheels and Matchbox (some old NB)--Pavement Pounders—lg. amount of Ertl tractors—Mack trucks, wrecker trucks, Coca Cola truck—Harley cycles, sets and more—toy Indian cycles--Am. Graffiti and Muscle cars—Int. combine—old Mc. Deering metal spreader, IH wagon and steel wheel tractor—50th Ann. JD tractor—Corvettes, Dodge Viper and others—4894 Case tractor—metal Mach 1 race car and others—old race car and other models—Crazy Ike toys—plastic Army, animal, instruments and more—Farmall tractors—tiny gas pumps—JD bailer—Int. disk and 1586 Int.—Tootsie trucks and cars—Int. dozer—cap guns—Ford 7500 backhoe—Ford 8000 tractor--50 Ford pick-up--semis—Haptonstall & Sons Livestock trailer—Shoot a Loop game--Lonemar wind up Pluto—kid's books, games, puzzles—Cox engine powered dune buggy—US Marines old coloring book—old Erector full set—Buddy L old transport plane—very old Coca Cola metal delivery truck—Structo old crane and horse trailer—black mem. Game of Poor Jenny—old marbles—Tru Scale tractors w/loaders and trailers, 2 bottom plow and more—ball gloves—Allis Ch. V112 tractor—old tin wind up cowboy—old wooden T-62 sailboat—croquet set--Tyco Command race track—NB old models—old Wind up train (NY)—old Stream Line elect. train and tracks—Revell Nova race set—old red metal scooter—red metal wagon--much more.
ANTIQUES, ETC.: Old KKK good standing token—old Texas Ranger badge—Ford Krug beer opener--.925 nurses Red Cross pin—old pins and badges from Butler and other locals—old FS cardboard fan—Galesburg and Knoxville old pennants and other school items—some military old items (hats, smalls, etc)—Maquon Grain screwdriver, local adv. fountain pens, etc.—old Gulf adv. tape measure in box—Silver Streaks and Lombard pins—old iron lion bank—old coin banks—All Amer. Fife whistle—Hohrn adv. pics—old hats in boxes (Winchester)—old wood guitar—Marine baseballs--Mr. Horsepower woodpecker sign—Ford Service metal sign—History of Cushman Eagle motor scooters, tractor, car, and other books—1948 very nice Hot Rod magazine—1953 Galesburg Reflector—1957 Fort Linterwood Army book—MM Farmall manual—Ford shop 49-51 manual—racing hats—1933 Harley cycle bank—old Goodrich tire ashtray—canes—much more.
DAVID HAPTONSTALL, EXEC. OF THE ESTATE OF MAURICE HAPTONSTALL—SELLER
FOLGER'S AUCTION SERVICE, INC.—WILLIAMSFIELD, IL
(JIM FOLGER AND JIM GIBBS, AUCTIONEERS)
PH. 309-368-6314 OR 309-879-2373
EMAIL: cat.2009@hotmail.com
Terms are cash, check or credit card. Lunch served.
For full ads, updates and upcoming sales, visit our website at www.folgerauction.com
LIKE US ON FACEBOOK