FAIRVIEW, IL REAL ESTATE
AND PERSONAL PROPERTY AUCTION
Sunday October 29, 2017
12:00PM
Map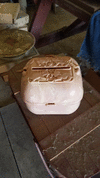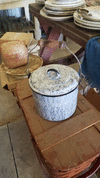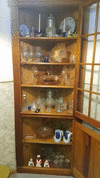 The following real estate, silver, outdoor, antiques and more will be sold on location at 225 Elm St., Fairview, IL 61432 (one block SW of sale barn), on
SUNDAY, OCTOBER 29TH, 2017
AT 12:00 NOON (REAL ESTATE SELLS FIRST)
REAL ESTATE: This real estate consists of 2 large corner lots mostly fenced in with chain link fencing. The property contains a 2 bedroom house w/sm. eat in kitchen, living room, entranceway, bath and a partial cellar. There is a 24' x 32' nice unattached garage w/cement drive with two 9' auto. doors and contains an extra shop area. On the other lot there is another nice 28' x 36' shed, also w/9' auto. doors. The property has city water and sewer. Contact the auction company below to view this property. Terms are 10% down day of sale, with balance to be pd. at closing in approx. 30 days. All sales final.
COINS AND JEWELRY: There are $1000s of dollars' worth of silver coins, including over 3000 Mercury and Roosevelt dimes, 200 silver Wash. and Standing Liberty quarters, hundreds of Walking Liberty halves, Franklin Halves, Kennedy silver halves, and more—1925 Peace dollar—1942-45 War Nickels—84 Buffalo nickels--many Jefferson nickels--over 1000 wheat pennies—steel pennies—1896 Indian Head—1979-92 proof and mint sets—other misc. coins. Nice 10K women's blue stone ring—Men's .925 Lindy Star ring--.925 rings and ant. bracelets w/turquoise—ant. hair pieces—nice old costume of all types—wrist watches—old eye pieces and glasses—misc jewelry.
ANTIQUES, ETC.: Lg. collection of old buttons of all types (Bakelite, celluloid, glass, shell, black jets, some on orig. cards)—variety of pink Depression—coll. of blue glass—lg. Aunt Jemima shaker—old 4 cup gr. meas. cup—nice Carnival bowl and pieces—lots of misc. old glass, china , etc.—red glass—hobnail--set of 22k gold trim Den City Pottery china—ant. bug boot jack—Billy Beer—smalls—old spoons—marbles--old utensils and prim. clever, draw knife, meat saw, etc.—mounted antlers—S & Ps—local adv.—yardsticks (Fairview and others)—old hand carved and other pipes—sewing baskets full of notions—old patterns—some 1st ed. Golden and other kid's books—old books (1866 Life of Abe Lincoln, Gone with the Wind, War and Peace, and more)—school books—old radios—very old iron mantle clock—old records and turn table—military items(bag, hat, goggles, mess kit, etc.)—some old fishing—old tricycle—kids games and toys—Teamster buttons—FK baby plate—blue jars w/zinc lids—sm. plastic yarn purse—Wolverine tin toy fridge—very old crayon tin—alum. cooler and jug—old coolers—old painted pine cupboard—lg. Duracell battery display stand—vintage luggage—galv. tubs—lg. Super Fry chip tins—60's-80's lic. plates—enamel swirl pot w/handled lid—trunks—Fenton basket—old Raggedy Ann doll—nice cups/sauces, dips, shakers, pitchers, miniatures, Coors ashtray, milk glass, Wheatonware dolls, and so much more—old planters and pots--full size wood spool—Happy Time old rocking horse—children's items--primitives—Super Sendra peddle scooter—old x-mas—misc. ant.
OUTDOOR AND TOOLS: JD LA115 100 series hyd. 19.5 HP mower w/42" deck—JD elect. start snow blower—Toro 22" self pro. Push mower w/catcher—Lawn Boy and Murray push mowers—alum. ladders and ramps—port. cement mixer (elect. motor)—pro lift jack—long wooden prim. ladder, step stools and more—new Yardworks spreader—new Keller alum. ladder—EZ lift sway control bars—1/2 ton NB steel loading ramps—NB Workmate 200—Fridgerant Free On—nice gauges for Fridg. Freezant—port. air comp.—sm. accet. tank—NB 1000 12 ga. piston wads—NB vent free gas wall heater—new 7"sander—toro blower—hand and power tools of every type repeatedly—organizers, oils, solvents, cleaner, anti-freeze—tool boxes—storage stands and shelving—like new wheel barrow, lawn items, cement mushrooms, huge plastic goose, frog and other gazing balls, wooden wishing well, yard tools of every type (nice)—like new lawn chairs, sand bags, chemicals, etc.—floor roller—fencing and landscape—rods, reels and misc. fishing—lures, boxes, nets, seats, plastic boat seats, etc.—nice picnic tables—12-2 rolls of elect. wiring—steel posts—heavy duty cords, hose, etc.—tool boxes full and much more.
HOUSEHOLD: Basic household including a blue leather type love seat—Tappen gas stove—older Maytag fridge—Windtunnel vac.—Maytag washer and dryer—basic kitchen and décor—nice wooden cabinet—NB Vienna ceiling fan and more.
J.A. MAHR—SELLER
FOLGER'S AUCTION SERVICE, INC.—WILLIAMSFIELD, IL
(JIM FOLGER AND JIM GIBBS-AUCTIONEERS)
Ph. 309-368-6314 or 309-337-2150 Email: cat.2009@hotmail.com
For updates, pictures and upcoming sales, visit our website at www.folgerauction.com
LIKE US ON FACEBOOK
Terms are cash, check or credit card. Lunch served on grounds. NOT RESPONSIBLE FOR ACCIDENTS
Attorney for seller—Holland and Holland—Bushnell, IL Ph. 309-772-3178