Mr. & Mrs. Randy Huber Online Auction
Thursday September 29, 2022
6:00PM
Map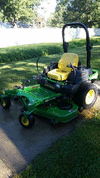 Mr. & Mrs. Randy Huber Online Auction
Starts: Thursday September 15 th
Ends: Thursday September 29 th 6:00 p.m. CST
Viewing: Sunday September 25 th 12:00-3:00 p.m.
Pickup/Checkout: Sunday October 2 nd 11:00 am-3:00 p.m.
Location: 9048 IL Rt. 127 Taylor Springs IL
Tractor: 2006 Kubota L3430 D w/ LA723 loader, cab, 4WD, hydro, AC/heat, radio, 3 pt. Pto, brush guard, only 441 hrs!! Super clean, well maintained tractor!
Lawn Mowers: 2007 JD 757 Z-Trak, 0 turn, commercial, 25 hp, 60" deck, 710 hrs.- very nice;2002 Kubota GF 1800 4WD, front mnt, flip up deck, 60" 18 hp, only 376 hrs! SN-51071, very nice!
Truck: '05 Dodge Dakota SLT 2WD, topper, white, ext. Cab, auto, power doors/windows, bed liner, 100k miles, excellent shape, runs good!
Golf carts: EZ-GO RXV, Kawasaki engine-runs great; Yamaha gas cart-runs great!!
Trailer: 6.5'X10' utility trailer, tilt bed, very nice!
Equipment: Woods 8' 3 pt finish mower; Rhino RT 7' pivot blade, 3 pt; 3pt 7' pivot blade; Comer 3 pt post hole digger; 3 pt ATV, small tractor sprayer w/ boom;
Quality tools: Craftsman rolling tool chest; Bostitch 6 gallon air compressor; many Dewalt 18 volt cordless tools-circ. Saw, drill, impact driver, sawzall, etc; Dewalt 12" compound miter saw-new in box; Dewalt 37 pc screwdriver set; Dewalt palm sander; Dewalt 34 pc impact set; many Milwaukee tools-drywall screw guns, drills, etc; many metric and standard wrench sets; claw and ball peen hammers; Craftsman floor mnt bench grinder; many Irwin 10" carbide saw blades; (2) Werner alum walk boards; Irwin 63 pc drill and drive set-new; Black/Decker worm gear circ saw; Mastercraft miter saw; many assort furniture clamps; pipe clamps; many new 2 ¾" disc locks w/ keys; Bostitch framing gun; air chisel and tools; brad nailer; rigid pipe wrenches; 24" adjustable wrench; pliers; tin snips; porta air tank; new hot water heater; window AC unit; jack stands; hand sledges; Makita belt sander; porta cable angle drill; porta cable jigsaw; rigid pipe cutter; rotozip tool; Craftsman router; Dewalt 4 ½" angle grinder; Dewalt ½" impact wrench; carpenter squares; battery chargers; oil filter wrenches; Craftsman 4" vise; tap & die sets; dremmel tool; McCulloch 14" bar chainsaw; new 12 volt magnetic tow lights; Kenowa 1280 generator; Craftsman 10" table saw on cart; (2) 28"X20" metal organizer cabinets; 10 drawer shop cabinet; floor mnt shop fan; 8 gal shop vac; 2 ¼ ton floor jack; Workmate table; organizers with hardware; light bulbs; plumbing supplies; new faucets; tool boxes; deck screws; Werner 6' fiberglass step ladder; large safe-no combination; pipe benders; ext cords; calipers; impact sockets; long handle tools; etc. much more!
For complete listing and pictures, go to mikecrabtreeauctions.hibid.com, mikecrabtreeauctions.com or auctionzip.com Auctioneer #46416
To register, view and bid, go to mikecrabtreeauctions.hibid.com
Terms: cash, check or credit card (3.9% fee on credit card transactions). All items are sold "As-Is". All sales are final. Auctioneer is not responsible for accidents, omissions, errors, theft or
Misrepresentations. Buyers must read and agree to ALL terms listed online!
LOADER TRACTOR AVAILABLE ON PICKUP DAY ONLY!!!!
Auctioneer note: The Huber's have taken great pride in their belongings. All items have been well maintained, serviced and are in excellent condition. Many of the tools are new in the box or have had minimal use. Quality all the way through!!
Mr. & Mrs. Randy Huber-Sellers
Mike Crabtree-Auctioneer
217-473-2507 mikecrabtreeauctions.hibid.com