Public Auction-4:00 P.M. Start
Tuesday September 21, 2021
4:00PM
Map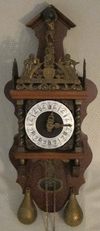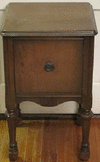 Public Auction
Located at: 107 N. Walnut Street, Elmwood, IL 61529
Like us on Facebook: Culver Auction Service http://www.culverauction/auctionzip or www.culverauctions.com
Tuesday, September 21st, 2021 @ 4:00 p.m.
Display Case Items-Antique Furniture-Antiques-Glass-Pottery-China-Needle Work-Toys/Dolls; Stevens "Crack Shot" .22 Rifle (non-firing), Lladro Statues, Perfume Bottles, Paper Weights, Taco Bell Bobble Head Dog, Marbles, Wh. A. Rogers Silver-plate Flatware for 12, , Old Casters, Skelton Keys, Jail Keys, Vintage Butcher Knives, Falstaff Beer Bottle S&Ps, Elf S&Ps, Pocket Knife, Match Books, Charvoz Drafting Set, Buttons, Brass Turtle, Antiques; Art Deco Slip Shade Chandelier (one shade missing), Ridgeway W. Germany Grandfather Clock, (4) Mid 70s Daystrom Smoke Lucite Acrylic Kitchen Chairs, (1) Haskell Retro Office Chair, (3) Tweed Mid Century Office Chairs, W. Germany 8-Day Atlas Clock, Beautiful Square 6 Leg Oak Dining Table w/6 Chairs/4 Leaves, Marble Top Parlor Table, Round Oak Pedestal Dining Table w/4 Cane Back Chairs, (2) Daystrom Mid Century Chairs, Mirrored Dresser & Matching Chest, Inlaid Chifferobe, Smoking Stand, Bentwood Spindle Rocker, (2) Single Wash Tubs w/Stands, Flat Top Trunk, Oak Lectern, Candlestick Phone, HSD Dinner Bell, Kerosene Lamps, Freshman Master Piece Wood Table Top Radio, Reference 450R Receiver & Turntable, Childs Rocker, Pine Benches, Lamp Tables, Glass & Iron Terrarium, Canes, Milkshake Mixer, Iron Door Stop, Galv Pevely Pinkerton Crate, Solid Wood Panel Doors, Wire Egg Basket, Wire Bird Cage, Butter Mold, Shadow Boxes, Alum Plane Plaques, Dietz Red Globe Lantern, Gumball Mach., Brass Ducks, Carpenters Box w/Tools, Lincoln Suitcase, Large Selection of 78 Record Albums, Wood Boxes, Wood & Marble Rolling Pins, Reel Mower, Galv Buckets, Blue Wire Bale Canning Jars, Louisville Slugger Bats (Brooks Robinson- Hernandez-CAT), Wichita State Signed Basketball 1990-91, Sprint Bag Phone, Glass; Art Glass, Depression, Fenton, Pedestal Glass Compote, Fostoria Bowl, Pressed & Pattern Glass, Cobalt Glass, Retro Animal Glass Set, Pottery; 3 Gal Crock Cooler w/Spigot, Salt Crock, McCoy Cookie Jar, Shawnee Pitcher & S&Ps, I Gal White Hall Crock, Pottery Pig Bank, 4 Gal Crock, Pottery Bowl & Other Pottery Pcs, Beer Steins, China; Moose Pitcher, China Pitchers, Cat Cream Pitcher, Ginger Jar, Tea Pots, Needle Work; Smocking Pleat Machine, Sewing Baskets, Buttons, Hankies, Doilies, Table Clothes, Embroidery, Quilting/Needlepoint Supplies, Sewing Tables, Patterns, Material, Toys/Dolls; Barbie's & Ken's, Lego's, Games, Fisher Price Toys, Vintage Dolls Composition & Rubber), Doll Furniture & Beds,
TWA/American Ozark Airlines Items-Duck Carvings-Vintage Paper/Books-Paintings/Prints; TWA Office Desk, (3) Westway TWA Jet Models-England, TWA World Globe, Large Collection of TWA & American Airlines Travel Posters, TWA Plane Cut Outs, TWA Travel Bag, Ozark Items, Carving; C. Fellow Carved Duck/others, Folk Art Carved Fish, Paper; Movie Posters (Goldfinger-Romeo & Juliet), 1928 Sportsman Digest, Lou Brock Signed Photo, St. Louis Photos, Huge Selection of Books-WWII-Cookbooks-Sewing-Craft & more, Art; Oil Paintings, Prints, Feather Picture,
Appliances-Office-Furniture-Kitchen-Household; Maytag Gas Dryer, Whirlpool Washer, Whirlpool Refrig, Hardwick Gas Range, Office Desk-Horizontal File-Supply Cabinets-Coat Rack, Kitchen Nook Table & Ladder Back Chairs, Floral Sofa, Arm Chair, Double Bed, Dressing Mirror, Lamps, Floor Lamps, Folding Tables, Microwave, Small Kitchen Appliances, Stemware, Pots & Pans, Baking Pans, Jell-O Molds, Flatware, Utensils, Tupperware, Canning Jars & Jellies, Towels, Canning Jars, Cleaning Supplies, Baskets, Heaters, Fans, Christmas & Holidays Décor, Boxes of Craft Items, Candles & Candle Making Supplies, VHS Movies, Carpeted Cat Tower,
Mower-Tools-Yard & Garden; Troy Built Pony Tiller, 12 spd Floor Drill Press, Craftsman 10" Table Saw, Stack Tool Chests, Air Compressor, Toro Power Shovel, Battery Charger, 2-Wheel Grinder, Shop Vac's, Hand Power Tools, Battery Tools, Stanley #55 Molding Plane, (2) Craftsman Bench Vises, ¼"-3/8"-1/2" Sockets, Craftsman Wrenches, Ridgid Pipe Wrenches, House Jack, Tamper, Ladders, New Elec Wire, New Saw Blades, Pipe Wrenches, Pry Bars, Wood Clamps, Porch Swing, Cement Bench-Flower Pots, Patio Pot, Cow Weather Vane, Backpack, Motorcycle Helmet, Cowboy Hats & Boots, Several Shelving Units (Plastic & Metal), Men's Mountain Bike, Misc Lumber & much more
Auctioneers Note: Very clean auction with some nice furniture & antiques. Two auction rings will be run. Come and enjoy. Statements day of auction supersede all others.
TERMS: Cash-Check-Debit Not Responsible For Accidents Lunch Stand Restrooms
Owner; Larry Hayes, Elmwood, IL
CULVER AUCTION SERVICE Lic#440-000447 Farmington, IL 61531/309-370-5305
Greg Culver-Tim Placher-Bill Homan Jr-Louie Grimes