Estate Auction
Saturday September 25, 2021
10:00AM
Map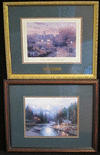 Estate Auction
Located at: 1001 E. Fort Street, Moose Lodge in Farmington, IL. on Rt.116
Visit www.auctionzip.com or www.culverauctions.com
Sat.- Sept. 25th, 2021@ 10:00am
Rare Little Miss Sunbeam Sign-Vanguard Studios Horses; Large Little Miss Sunbeam Bread Porcelain One Sided Store Sign 60"w x 48"h Rare, 1970 Vanguard Studios Huge 4 Horse Head Wall Sculptor-California
Jewelry-Display Case Items/Advertising-Vintage Paper/Books-Art Work; 14K Men's Seiko Watch, 14K Eagle Necklace, 14K Cross, 10K Men's Dia Ring, 14K Gold Chains & Other Gold, Several Pcs of 9.25 Sterling, St.Louis Cardinals 1961 Worlds Series Ring, Nice Selection of Men's Ladies Higher End Wrist Watches, Rings, Necklaces, Brooches, Demi Sets, Earrings, Pins, Rosary's, Bracelets, Sterling Lock Box, Unusual Men's Jewelry, Display/Adv; (9) Metal Lunch Boxes (Dukes of Hazard-Steve Canyon-Super Hero's-Early West-Walt Disney-Strawberry Shortcake/Other), Mickey Mouse Airmail Plane, Stamped Metal G Man Guns, Cat Tractor Metal Badge, CAT Fob, German Thimbles, Compacts, Cig Cases, Zippo Lighters/others, Studebaker Pin, Gun Lighter, Celluloid Straight Razor/ others, Bakelite Adv w/Mirror, Military Items, Pocket Knives, Pewter Pcs, Flemish Wood Pipe Wall Unit, Harmonica, Beaded Purse, Starter Pistol, 1957 Peter Pan United Way Statue, Lots of Sterling Silver Pcs, Celluloid Girl, Fountain Pens, Belt Buckles, Cracker Jack Toys, Adv Pens/Pencils, Metal Soldiers/Indians, Small Mickey/Minnie Clock, Peoria Souv Squirrel, Transistor Radios, Lots of Advertising Items, Key Chains, Cig Case, Small Tapestry, Silhouettes, Foreign Coins, Banks, Thimbles, 1933 World's Fair Spoons, Vintage Paper/Books; The Golden Beatles Book, 1938 Chevy Manual, Advertising Paper, Railroad Paper, WWII German & Military Post Cards, Railway Post Cards, Souvenir Pack Post Cards, 1879 1st Edition of Charles Dickens Works Vol I-II-III, 1888 Little Pansy Book, Golden Books, (2)1929 Hills Bros Book, Kentucky Derby Posters, WWII Ration Books/ Stamps, Stamp Collection, Art Work; (9) Thomas Kinkade Framed Prints, Atkinson Fox Print, Currier & Ives Prints, Numerous Orig Oil on Canvas Paintings, Feather Pictures,
Cylinder Music Box-Antiques- Collectibles-Pottery-Glass-China- Nice Christmas; Ornate 23 ½' Cylinder Comb Music Box 12 Tunes w/Rosewood Case, Thoren's Swiss Music Boxes, Waterfall Chest, 2-Door Cabinet, Dressers, Youth Roll Top Desk w/Chair, Marble Top Table, Parlor Table, Victrola Talking Mach., Small Tables, Taz Headlites Lighted Sign, Coca Cola Metal Cooler, Cigar Store Display, Wicker Baby Buggy, Spinning Wheel, Sessions Mantle Clock, Pachinko Mach., 36"x36" Wood Sail Boat, Coca Cola Regulator Clock, Dr Pepper Clock, Banjo Clock, 31 Day Regulator, (2) Mobley 1960s Blinky Eye Rubber Dogs, Dutch Boy Lead Paint Bucket, Justrite Safety Can, Golden Rod Oil Can, Peoria Hire Foundry Bookends, Peoria Mach Thermometer, Cast Iron Pig Banks, Cast Iron Door Stops, Incolay Stone Clock & Dresser Boxes, NIB ILLini Football Lamp, Peacock Lamp, Derby Glasses, NIB World Globe, Novelty Model Car Radios, Chalk Pcs, Vintage Records Some Jazz, Sandstone Carvings, Nier & Dietz Lanterns, Primitives, Vintage Cameras & Movie Projectors + Large Selection of 16mm Movies, Paramount 20 16mm Projector, Product Tins/Bottles/Boxes, Quilts, Tapestry's, Doilies, Linens, Collectibles; Hummel Spice Jar Set, Caterpillar Items, Hummels, Vienna Woods Elephants, Mickey Mouse Items, Coca Cola Items, Precious Moments, NASCAR Items/Cars, Pottery: Van Briggle Pottery, Red Wing, Hull, Hall's, 5 Gal Crock, Salt Crock, Crock Jar & Jug, Cookie Jars, Patio Pots, Planters, Glass; Blue Fenton Lamp, 1800s Jefferson Buttons & Braids Fluted Bowl, Waterford Crystal Clock, Bohemian Glass, Venetian Glass, Fenton Coindot, Petrache Romania Glass, , Westmoreland, Carnival, Lead Crystal, Depression, Murano Floor Vases, Art Glass, Jadeite, China; Wedgewood, Mid Century Kathi Urbach Chinese Fan Girl-12", Belleek, Dolton Pitcher, Hall, Meakin China, Royal Winton, Arnart Pucci Bird Sculptors, Lefton Days of Week Angels, Peacock Platter, S&Ps, Bird Statues, Nice Christmas; Dept 56 Buckingham Palace NIB, Dept 56 Budweiser Brewery, Dept 56 McDonalds NIB, Dept 56 Budweiser Clydesdale Team & Wagon, Hummel Xmas Village, Musical Workshop, (2) NIB Holiday Carousels, Jim Shore Angels, LeMax Ferris Wheel, David Winter Houses, Dept 56 Snow Village, Romanian/ Lenox Mickey Minnie/Blown Glass Ornaments, Cardboard Santa's, Angels, Xmas Trees,
Beer & Bar Signs-Advertising Signs-Related; NIB Foster's Beer Cooler Lights, Visible Gas Pump Dispenser, Beer Signs, Wood Beer Case, NIB Budweiser Beer Steins, Budweiser Club Kits, Cardinal Stein, Adv Beer Openers, Adv Signs; (2) 1930s DeSoto Adv Signs, Large Northern Pacific RXR Adv Print, 1875-1979 Kentucky Derby Winner Banner,
Sportsman Collectibles-Toys-Model Trains-Dolls; Carved Goose/Duck Decoys, Signed Louisville Slugger Bats ( Yogi Berra #125s,Johnny Bench #125LL,Pedro Guerrero #100LL, Eric Davis #R161), Ted Williams Spalding Bat & Others, 1984 Cubs NL East Champion Picture Plaque, South Bend Redi Rod, Penn #109 Bait Caster, Bobble Heads, Baseball Card Sets, Toys; Marx Battle of the Blue & Grey Set in Box, Marx Fighting Knights Play Set, Star Wars Land Speeder, Marshall Field's Delivery Truck, VW Bug Bump-N-Go, Action Figures, Ertl JD Tractors NIB, Lindberg Dune Buggy Kit, Metal Cap Guns, Hubley Car Kit, Ford 7500 Backhoe, Tyco Slot Car Set, Vintage Caterpillar Models, 1940s Wonder Horse, GI Joe Foot Locker Full, G.I. Joe Eisenhower NIB, Tin Litho Japan Cars, Tootsie Toys, Revell Sub Model, Darth Vader Costume, Matchbox & Hot Wheels, Metal Farm Tractors, Model Trains; Lionel-Bachman-Tyco Train Sets, Lionel Steam Eng #999, Lionel Multi Switches, Tyco 1890 HO Santa Fe Eng #1776 w/Tender, Kitmaster RosebudTrain in Box, Nice Dolls; Robert Raikes Bears, Indian Dolls, Ken & Barbie's, 1961 Barbie Case, Raggedy Ann/Andy Dolls, Vintage Composition-Rubber-China-Bisque Dolls,
Furniture & Misc; Stickley Blade Rocker, Glass Top Coffee & End Tables, Owl Lamp, Lenox Lamps, Heaters, Coin Boxes, NIB First Alert Wired Camera System,
Auctioneers Note: This is the third of four auctions for this estate. Some high quality items, 2 to 3 rings will be run. Statements day of auction supersede all others.
TERMS: Cash-Check-Debit NOT RESPONSIBLE FOR ACCIDENTS Lunch Stand Restrooms
Estate of David Howell-Bartonville, IL
Culver Auction Service Lic#440.000447 Greg Culver Farmington. IL 61631 ph:309-370-5305 -Tim Placher-Bill Homan Jr-Louie Grimes