Living Estate Auction
Saturday June 27, 2020
10:00AM
Map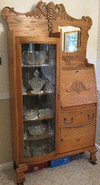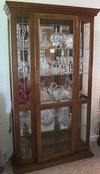 Living Estate Auction
Located at: 401 N. Burson Street, Yates City, IL 61572
Like us on Facebook: Culver Auction Service http://www.culverauction/auctionzip or www.culverauctions.com
Saturday, June 27th 2020 @10:00 a.m.
2004 Lincoln; Beautiful Lincoln Towncar Ultimate 63,000 Miles-V8-Vinyl Roof w/ Sunroof-Full Power-Like New Tires-Very Clean & Well Maintained Automobile With Complete Maintenance Records.
Pockets Watches-Jewelry-Display Case Items (Military)-Toys/Die Cast-Paper-Paints/Prints; 1909 South Bend Pocket Watch w/Chain, Bulova Pocket Watch, Armitron Men's Wrist, Armitron Ladies Wrist, Jewelry; Brooches, Pins, Bracelets, Glass Beads, Necklaces,, Rings, Pink Coral & More, 1847 Rogers Silver-plate Service for 8 "Adoration", Large Selection of Silver-plate Coffee/Tea Service, Oneida Community Silverware Service for 12, Display; 1955 Knox County Historical Plat Book, Peoria Wood Cigar Box, WWII US Navy Mark I Knife, USS Arizona Belt Buckle, US Navy Pocket Knife, WWII Military Patches, 1945 Great Lakes Navy Photo, War Ship Photos, Ships & Aircraft of US Fleet Book, Soldiers English to French Dictionary, USS Manchuria Bunk Assignment Ticket, Ration Books, B&O RxR Chisel, Area Advertising Items, Large Collection of Pocket Knives, Toys/Die Cast; Ertl 1586 IH Tractor w/Cab, Tin Friction Car, 1959 Chevy Muscle Car, Scale Model Die Cast Cars & Trucks, Die Cast Truck Banks, Wooden Cars, Paper; 1836 Naturalization Papers, 1918 Knoxville H.S, Diploma & Photo, 1929 Cedar Bluff Knox County School Book, 1900- 1912 Blue Sky School Register Book, 1800 Photos, Presidents of the US Book Up To 1945, Paintings; J.Gould Parrot Prints, Helen Donalson Painting & Others,
150 Year Old Longcase Clock-Antiques-China-Pottery-Glass-Needlework; 150 Year Old Long Case Grandfather Clock works are marked E&P Etzold & Popitz w/Cast Weights-German-very nice, Daniel Dakota Mantle Clock, Bulova Mantle, 8 Day Regulator Clock, Gilbert Mantle Clock, Ingram 8 Day Mantle, Coo Coo Clocks, Westminster Wall Clock, Howard Miller Wall Clock, Kundo & Seth Thomas Anniv Clocks, Clock Shelf, Antiques; Oak Secretary w/Mirror, Lincoln Desk, Waterfall Cedar Chest, Jelly Cabinet (Painted), (2)Washstands w/Towel Bars, (2) Cast Iron & Wood Benches, Painted Dresser, Folding Tapestry Chair, Cane Sewing Rocker, Victorian Sitting Chair w/Stool, (4) Victorian Setting Chairs, Ornate Treadle Sewing Machine-Minn., Parlor Table, Gone With The Wind Elec Lamp, Wood Cabinet w/2Drawers/2 Doors, Two Drawer Cabinet, Pipe/Tobacco Stand, Triangle Drop Leaf Table, Gilded Mirrors & Frames, (2) Antique Condiment Holds (One all Glass), Cast Iron Long Horn Steer Bell, Blanket Box, Red Wagon, Stereoscope, Wall Coffee Grinder, Kerosene Lamps, Wood Clothes Dryer, Vanity Set, Pole Lamp, Vintage Kitchen, Jadeite Refrig Bowl, Vintage Pyrex, Tin Match Holder, Records, Red Handled Utensils, Yardsticks, Old Product Tins/Jars, Milk Can, Maytag Grease Can, Wood Soda Cases, Galv Buckets, China; Large Set of Blue Onion Canisters/Salts/Cookie/S&Ps/Condiments, Aynsley "Pembroke" China Service For 12 w/extras, Sango "Persian Wood Dinner Service for 12, Coventry Dish Set For 4, Bavarian Tea Set, Lefton Teapot w/Cream & Sugar, Japan Vases, Nippon, Limoges, R.S. Prussia, Victorian Figures, Lefton & Japan Figurines, Liberty Falls Collection, Pottery; Roseville Blue & Green Pottery, Abington Pottery, Hall Vase, Fiesta, Glass; Fostoria, 30 Pieces of Cambridge Blue Caprice Crystal, Mid Century Multi Color Pitcher & Glass Set, Fenton, Coin Dot Cranberry Vase, Carnival Glass, Carnival Punch Bowl/Cups, Stacked Crystal Candle Holders, Cut & Etched Glass, Cranberry Glass, Blue/Custard/Hobnail & Ruby Glass, Moon & Stars, Candlewick, Master Salts, Needlework; Several Quilts, Days of the Week Tea Towels, Doilies, Table Cloth & Napkin Sets, Hankies,
Freezer-Modern Furniture-Household-Misc; Small Chest Freezer, Furniture; Nice Octagon Dining Table w/4 Chairs/Leaves/Pads, Matching Lighted China Hutch, 6' Lighted Display Cabinet, 27"x 32"Display Cabinet, Matching Reclining Wing Chairs, Matching Wing Chairs, Settee w/Pads, Rocker Recliner, Sofa, Rock City Queen Bedroom Set, Queen & Double Bedroom Sets, LG & Samsung 32" Flat Screen TVs, 24" Flat Screen, DVD Player, Electric Heat Surge Fireplace w/remote, Cherub End Table, Flat Screen TV Stands, Wood Bench, Record Cabinet, End Tables, Bed Lamps, Lamps, Wood TV Trays, Files, Card Table w/Chairs, Free Sewing Machine, Sentry Safe, Stools, Household; Small Kitchen Appliances, Lots of Cookbooks, Pots & Pans, Bake Ware, Corning Ware, Pyrex, Tupperware, Several Nice Elec/Battery Clocks, Sweepers, Nice Framed & Matted Prints, Linens, Pillows, Spreads, Blankets, Floral Arrangements, Silk Flowers, Folding Tables, Lots Of Christmas, Upholstery Fabric, Drapes/Curtains, Fans, Luggage, Convalescent Items,
Shop-Tools-Yard Ornaments & Garden; Elec Pressure Washer, Elec Chainsaw & Trimmers, Elec Weed Trimmer, Antique Craftsman ¼" Drive Socket Set in Metal Case, Hand Power Tools, Shop Vise, Craftsman Wrenches, Long Handled Tools, Pipe Clamps, Wood Bits, Hardware, Ladders, Drop Cords, Lawn & Garden Chemicals, Shop Fluids, Gazing Globes, Concrete Bird Bath, Concrete Yard Ornaments, Lawn Chairs, Golf Clubs,
Auctioneers Note: Please adhere to the CDC Guidelines. Something for everyone, bring a friend, 2 auction rings will be ran. Statements day of auction supersede all others. Two tents will be in place for some of the items.
TERMS: Cash-Check-Debit
NOT RESPONSIBLE FOR ACCIDENTS Lunch Stand Restrooms
Owner; Aileen Mathews - POA: Carol Eaves
CULVER AUCTION SERVICE Lic#440-000447 Farmington, IL 61531/309-370-5305
Greg Culver-Tim Placher-Bill Homan Jr-Louie Grimes