2021 Stockyards Collectors Club Auction Open To The Public
Saturday June 12, 2021
9:00AM
Map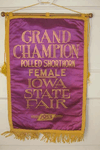 2021 Stockyards Collectors Club Dinner & Auction
Best Western Steeplegate Inn I-80 and US 61, Davenport, Iowa
Friday June 11, 2021
12:00 PM – 5:00 PM Auction Set Up Room B & C
5:30 PM Social Hour and Cash Bar
6:00 PM Dinner Hour Rooms A,B,C open to the public
$27.00 included 2 meats, 2 salads, potatoes, 2 vegetables, rolls, coffee, tea, water and gratuity RSVP to Mitch McKay or Pat Kedley by June 5, 2021
7:15 Speaker James M. Rentz
8:05 PM Auction of 10-12 items
Saturday June 12, 2021
8:00 AM-9:00 AM Viewing of auction items
9:00 AM Auction open to the public
Hotel Contact: Nick Con 800-373-6900
Reserve by May 30, 2021 and mention Stockyards Club for a group discount $129
Includes complimentary buffet breakfast.
Questions:
Mitch McKay 847-566-5914 Illinois
Pat Kedley 563-941-5348 Eastern Iowa
Terry and Carol Seggebruch 815-325-3738 Eastern Illinois
Eddie Lindskog 815-590-1067 Western Illinois
Auction items to include Stockyard Inn glasses, stockyard books, International livestock posters, cattle books, padlocks, bullet pencils, histories, tally books, stockyards pictures, and advertisements and many others not listed.
Early consignments include:
(1)…..Conklin Bros. Calendar 1927 July, showing Montie & Louis. 17 x 14"
(2)…..Chicago Union Stockyards Brass pig
(3)…..framed Clay Robinson calendar 1896 December, Chicago, Omaha, Denver and Kansas City.
(4)…..1896 picture of Chicago Union Stockyard buyers, commission men, framed 14" x 17".
(5)…..The National Provisioner 100 year anniversary Meat for the Multitudes, stockyards, packing houses, history of meat.
(6)…..Tracy, Seward & Co. Chicago Stock Yards commission calendar (1914) framed in barn wood. Map of Chicago Yards.
(7)…..H. D. Copeland Commission Chicago 12 x 16" display case to include picture card of Wm McClelland commission agent, book, ruler, pen, pencils.
(8)…..Book: The Legend of IBP Est. 1960 by Jeffrey Rodengen. Hardback in color. Picture of Chicago Stockyards and Sioux City, outstanding sold as (B) Green IBP cap with white letters.
(9)….. Framed picture of the busy alley US Yards Chicago. 14 x 20.
(10)…..(A)"Trout" Livestock Commission Co. Book Black foldover 1916 calendar.(B) "Trout" metal knife 3 ½" long to include bottle opener, cigar cutter, etc.
(11)…..Chicago Union Stockyards notebook to include 64 postcards all from Chicago and different including 5 large cards.
(12)…..A pair of 26" brass horse harness hames with brass ball tops.
(13)…..pair of old celluloid horse harness rings. 13 round graduated rings (spreaders).
(14)…..Two cattlemen magazines 1946 & 1956. John Wisdom Hereford sale Bloomfield, IA, Jack Hoffman Hereford Grand Champion. Will Jargo & Sons, Miles, IA. Poco Bueno on cover, Sold as A and B.
(15)…..Two Sandhill Feeder magazines 1978 and 1984. Valentine, NE. Lists Ranches and brands from Neb. Sandhills. Omaha, Angus. Sold as A & B.
(16)…..Clay, Robinson & Company Livestock Commission Same as 1909 picture in Breeders Gazette. Picture of Scottish Highland cattle. Framed
(17)…..International Livestock Exposition Sign. Nov—26—Dec. 3/ Chicago
41 ½" x 13 ½". Would be nice to know the year. Paperboard, metal trim
(18)…..Choice 4 Rosette Ribbons. 1 Best 10 head Polled Shorthorns 1955 International; 2 Junior Champion Polled Shorthorn Female 1958 International; 3 Grand Champion Polled Shorthorn Female 1956; and 4—Junior Champion Shorthorn female 1957 Southwest Exposition and Fat Stock Show.
(19)…..Banner, Grand Champion polled shorthorn female 1953 Iowa State Fair
(20)….Banner, Reserve Junior champion Polled Shorthorn Bull 1960 International.
(21)…..Choice Sept 1928 Berkshire Journal with cover photo of Clemson Monarch Grand Champion Boar 1928 National Swine Show.
(22)…..Percheron horse sale catalog with mailing envelope Lynnwood Farm Sept. 18, 1942.
(23)…..Choice Dec. 10, 1934 Shorthorn World with cover photo of Champion Carload of Shorthorn steers. 1933 International.
(24)…..100 year anniversary Omaha Stockyard belt buckle with 3D rail, truck and exchange building. Made by Iowa Premium Specialties.
(25)…..Chicago Union Stockyards 100 year anniversary wine holder depicting the front gate. Given to guests at the 100 year celebration put on by Larry Caine.
(26)…..Custard glass Chicago Stockyards souveneir. 2 ½" by 3". Depicts scene of yards with gold trim. Made circa 1940. Nice condition.
(27)……Wagon wrench from late 1800's.
(28)…..Feed scoop made out of brass. About 2 ½ feet long with wood handle.
(29)…..International Livestock Show picture parade of champions. 1937. About 18" by 14". Shows all breeds and champions in each class.
(30)….Picture parking lot from International Livestock Show in Chicago from 1960 depicting the International Livestock Building and the Stockyard Inn.
(31)…..Picture auction of the International Livestock Grand Champion from 1965. Showing auctioneer and show winner.