PUBLIC AUCTION OF GUNS, DICKEN'S VILLAGE, TOOLS, OUTDOOR AND LIKE NEW HOUSEHOLD
Sunday November 10, 2019
12:00PM
Map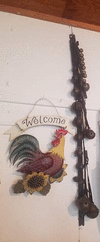 The following very nice auction will be held on location at 710 NW 7th Ave Galva, IL 61434 (On the NW edge of Galva), on
SUNDAY, NOVEMBER 10TH, 2019
AT 12:00 NOON
CLICK HERE FOR LOTS MORE PHOTOS
GUNS AND SPORTING: Remington 1100 black nylon stock 20 gauge #R195600K—JC Higgins Model 20 12 gauge pump, 2 ¾" chamber, ribbed barrel, bought new in 1939, #583.56—Browning 2000 20 gauge auto, 2 ¾" chamber, plastic stock, ribbed barrel, #06433D57—Winchester Ranger Model 120 20 gauge pump, wood stock, ribbed barrel, 2 ¾" or 3" chamber, #L1931305—Winchester Ranger Model 12 20 ga. pump, blonde wood stock, 2 ¾" or 3", #L1426079—Benelli Crio barrel 20 gauge, cutomatic 2 ¾" to 3" w/scope, shot once, recoil stock, #N100349, cat. 13081—Mossberg 22 bolt action w/clip, peep sight, short or long, fold down stock, strap, #142-A—22 bolt action w/clip (bought at Weaver's in Williamsfield)—JC Higgins model 30 22 auto LR #2552429—Marlin 22 auto model 99MI, L.R. #22402102—Henry Repeating Arms lever action 22, hexagon barrel, metal plated #GB129755—Crossman 2100 Classic BB pump gun, 177 cal. BB repeater #591507694—Am. Classic Model 1377 .177 cal. pellet pump pistol #888246959--4 boxes 20 ga. slugs—1 box 12 ga. 3" 4 shot—1 box Winchester 20 ga. 7 ½ shot and one box 4 shot—22s and 410 shells--gun cleaning supplies—8 gun etched glass gun cabinet w/side shelves and drawers—8 gun glass door gun cabinet—Case folding knife—Buck knife and sheath—nice hunting knives—fishing rods, reels, tackle box full, lures—nice sets of golf clubs and bags of various brands, nice clubs and parts and balls—XL and L men's hunting and winter clothes, orange, like new Walls XL coveralls and more—Schwinn suburban 21 speed like new bicycle, I10 Trail—deer antlers—Sure Shot duck call—Magna II depth finder and more. A few misc. guns may be added by sale day. Guns will be handled by Phil Albertson Firearms, Princeville, IL. Proper FOID required. Guns will sell at approx. 1 p.m.
OUTDOOR AND TOOLS: JD D110 hydro stat riding mower w/205 hrs., 42" deck, 19.5 HP, new batter, very clean—Brand new Remington 24" snow blower, electric start—Like new Poulan Pro 25cc 12' limb trimmer—JD pull behind spreader—Earthquake rear tine 16" tiller, Viper 212cc, self-propelled, used once—sm. Mantis tiller—Rem. electric tiller--White 6.5 HP self-propelled 21" mower LG210—new Rugid dump rubber tired yard cart—Keller 8' fiberglass like new ladder—other alum. ladders and wooden step ladders—used once lawn mower jack—well-kept yard tools—hand tools of all types (Craftsman and more)—Agri Fab like new lawn sweeper—some misc. lumber—rubber tired wheel barrow—gas cans—B & D battery week eater—like new electric start Generac GP6500E generator, 8000 watt—Rem. electric chainsaws and hedge trimmer—B & D sawsall and 8" 5 speed drill press—6" bench grinder—belt sanders and hand grinders—trickle chargers—ball hitch--metal car ramps—saw horses—hose and reel—fence stretchers—Roto Zip spiral saw in case—sabre saw—1.5 HP shop vac—electric and battery drills and other power tools—new tools in cases—like new Toro lg. blower w/bagger—2.5 HP air compressor, 6 gallon—All American base and top rolling tool chest—2 ton floor jack—jack stands—Husqvanrna gas 122HB blower—drop cords—sm. older Craftsman tool box—dremmel in case—air tools—all types of garage and tools—like new Charbroil sm. gas grill—yard décor and chairs--misc.
COLLECTIBLES, FURNITURE AND HOUSEHOLD: Lg. collection of Dept. 56 Dicken's Village houses, churches, barn, etc. and accessories of all types (This is a collection of over 45 houses, some retired items and display parts, boxes are included with all items, a must see for Holiday collectors. A NB Graceland special edition set w/access., a Dickens Village Christmas Carol set, along with others, have never been opened)—a few random pieces like a Dept. 56 Coca Cola Snow Village piece and more—see pictures online and our FACEBOOK page—2 full straps and other individual antique sleigh bells—Pyrex, Corningware, collector plates, C & I glass set, misc. ant. dishes—1970s Coke trays-gallon Dayton Township, Ottowa, IL milt bottle—blue Cobalt Peanut butter jar—yellow metal step stool—galv. wash tub—bird houses and feeders—prim. orange crate—small BLS Shopping Center grocery cart—prim. doll stool—Indian statue and pics—wall clocks and décor—Galva co-op thermometer—men's wrist watches—a few pieces jewelry—ant. child's nice roll top desk w/chair—ant. oak small library table—ant. chest of drawers and other ant. chest—Gentleman's dressing chair—wooden rocker—quilt rack, floor mirror and misc. sm. furniture pieces—wooden retro style drop leaf kitchen table and 2 chairs—Hamilton Beach nice convection oven and nice sm. appliances—new digital dehumidifier w/pump--basic kitchen, linens, etc.—brand new queen sized Mattress on very nice bed with matching chest of drawers—nice full sized bed—solid wood dining table w/2 leaves and 4 chairs on pedestal base—brown leather rocker/recliner—sm. new fire pit—18" nice flat screen TV—much misc.
RICHARD WINTER SR.—SELLER
FOLGER'S AUCTION SERVICE, INC.
(JIM GIBBS AND JIM FOLGER AUCTIONEERS)—WILLIAMSFIELD, IL
Ph. 309-368-6314 or 309-337-2150
Email: cat.2009@hotmail.com
For pictures, full ads and more, visit our website at www.folgerauction.com and LIKE US ON FACEBOOK for more
Lunch served.