Two Day Double Estate Auction
Saturday October 19, 2019
thru Sunday October 20, 2019

10:00AM
Map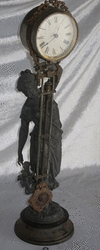 Two Day Double Estate Auction
Located at: 1001 E. Fort Street, Farmington, IL 61531-Across from McDonalds on Rt 116
Saturday & Sunday, Oct. 19 & 20th 2019 @ 10:00 AM
Like us on Facebook!! Visit; www.auctionzip/2550 or www.culverauctions.com
Jewelry-Badges-Display Case Items-Farmington & Area Advertising-Books-Paper-Vintage Pipes: Brooches, Pins, Necklaces, Bracelets, Demi Sets, Sterling, Rings, Stick Pins, Paul Vallette 17J Ladies Watch, Elgin Pocket Watch, Watch Chains, Ladies Watches (Vera Bradley), Sterling & Silver Plate Flatware Services, Silver Plate Pcs, Sterling Spoon Collection, Sterling S&Ps, IL Field Agent Badge, IL Juvenile Parole Badge, IL Capital Police Badge, Deputy Marshall Badge, 1912 IL Motor Vehicle Bicycle Lic Tag, (2) Early 1900 Motor Vehicle Law Tags, (30+) Vera Bradley Purses, Cresolene Vapo Lamp, CA Smith Ruby Glass Cup-Advertising Pcs-Thermometer-Gold Toothpick/Snuff Scoop- Opera Glasses, Art Deco Pcs, Jeweler Glasses, Keys Paint Store-Fash & Son Adv./Others, 1893 Worlds Fair Ruby Glass, Jewelers Scale, Jewelers Oak Tool Chest, Several Fossils of Ferns/Plants, Boy Scout Items, Marbles, German Harmonica, Lincoln Log Metal Figures, 1890s Autograph Books, Prussia China Military Doll, Ostrich Egg, 1912 Calendar Plate/LB Baylor-Farmington, HA Stokoe Grocery China Bowl/ Farmington, Pocket Knives ( Remington/Case/Butterfly Knife/Others), S&P Collection, Moses & Jemima Shakers, Black Art Shakers, Phillips 66 & Standard Oil S&Ps, Schlitz & Ruppert Beer Bottles S&Ps, Mr. Peanut Bank & Cup, Spectacles, Senn's Milk Bottle, Dairy Creamers, Milk Bottles, 1917 Victory Bond Button, Local Advertising, Paris Opera Glasses, 1862 Peoria Whiskey Bottle, 1933 Worlds Fair Radio Flyer Wagon, Sterling Match Holder, 1800s Springfield Soda Bottle, Case Scissors, Spurs, Tin Type Photos, Cast Bookends, Pill Boxes, Zippo Lighters, Straight Razors, Victorian Umbrella, MSA Mine First Aid Kit, HD Sunglasses, China-Bisque & Composition Dolls, Marx Tin Lazy-Day Farm Set, FP Toys, King Model D Air Rifle, Coin Banks, Taylor Drug Bottle/Farmington, Vier Bldg Adv., Match Books, Books; 1901 Life of Wm McKinley, 1908 History of US, The Battle of 1900-Citizens Issues & Platforms, The Dore Bible Gallery, 1890s Family Bibles (one printed in Rockford), 1800/Early 1900 Novels, Henty & Alger Jr Boys Novels, 1940s Cartoon Books, Photos/Paper; 1913 & 1920 Olive & Gold Farmington Yearbooks, 1900s Farmington Fireman Photo, 1953 Goebel Beer Cardboard Beer Sign, 1916 Catalog, Old Photos of Downtown Farmington, 1904 United Mine Workers Card, Roland Johnson Framed Xmas Cards, 1800s to Early 1900 Diplomas/Papers, 1907 Bradley Poly Institute Class Photo, 1800s Books, 1930s State Fair Tickets, 1930s Republican Nat'l Convention Tickets/Paper, 1929 Logan Cty Basketball Tournament Program, Paper From Logan/Sagamon Counties, Baseball Cards, Pipes; Over 100+ Smoking Pipes, many high end makers plus Tobacco Jars & related items.
Antique Furniture-Antiques-Pottery-China-Glass-Vintage Records-Prints/Paintings: Baldwin "Acrosonic" Spinet Piano-Excellent, Mid Century Meadowcraft Iron/Leaf Lawn Set, Round Maple Dining Table, Dressers, Music Cabinet, Unique Writing Desk w/Bookcase, Marble Top Washstand, Childs Chalkboard Desk, Wicker Furniture, Glass Claw Piano Stools, Lectern Desk, Parlor Tables, Painted 4 Drawer Stand, Walnut Spindle Bed, Cedar Chest, Porcelain Top Kitchen Table, 1950s Metal Kitchen Set, 3-Tier Table, Blanket & Cedar Chests, Ice Cream Chair, Bookcases, Several Small Tables, 3-Drawer Chest, Piano Stools, Mahogany China Hutch, Unique Metal Kitchen Cabinets, Porcelain Top Kitchen Table, Tall Kitchen Cabinets, Night Stands, 3-Drawer Chest, Lucite Agate Kidney Coffee Table, (4) Bowback Chairs, Mission Oak Fern Stand, Cast Iron Bench, Wood & Metal Stools, Eastlake Wall Mirror, Cane Bottom Chairs, Drop Leaf Serving Cart, Drop Leaf Tables, Antiques; Ansonia Swing Clock w/Huntress Holding Ducks, Brass & Cast Hall Tree, 1'x5' Coleman Product Sign, Emerson-Westinghouse Metal Blade Fans, Vornado Fans, Sugar Bucket, Copper Boiler, Smoking Stands, Pedestal Ash Trays, Steamer Trunks, Elgin Wall Clock, Metal Egg Shipping Crate, Victorian Caster Cruet Sets, Candlestick Phone Lamp, Seth Thomas Mantle #3695, Schatz Perpetual Clock, Aladdin Lamps w/Fennels, Aladdin Night Lite, Vintage Counter Radios, Tombstone Radio, Elk Feet Lamp & Ash Tray, World Globe, Sleigh Bells, School Desk Bell, Carpenters Box, Match Holders, Marble Floor Lamps, Banquet Lamp, (2)Tramp Art Spool Bookcases, Brass Fire Extinguishers, Standing Ash Trays, Rare 14" Griswold Cast Iron Skillet #718A, Griswold Dutch Oven, Griswold Trivet, Spice Jars, Art Deco Frames, Mink & Fur Coats, Metal Statue of Lincoln, Dinner Bell w/Eagle, Hankies, Doilies, Linens, Several Nice Quilts, Hudson Bay Wool Blanket, Tatting Sheets/Pillow Cases, Mink & Fur Coats, Japan Poodle Radio, Steamer Trunks, Vintage Kitchen, Coffee Grinder, Antique Tapestries, Kerosene Lamps, Slag Glass Chandelier, Blanket Box, School Desk Bell, 50s-60s Lic Plates, Enamel Baby Tub/Coffee Pot/Pans, Vintage Cameras/Equip, Primitives, 1800s Photo Albums, Vintage Kitchen, Wood Boxes, Pyrex Mixing Bowl Nest, Sad Irons, Product Bottles/Tins, Milk Can, Vintage Tools, Pottery; Rare Stacked Crock Jug w/Large Side Handle, Van Briggle Pottery, Vadna Ware Cups & Glasses, 5 Gal Western Jug, Red Wing Chicken Pitcher/Bowl/Vases, Roseville, Weller, Abington, Morton McCoy, Frankoma, Crocks, Fiesta, Sleepy Eye Pitcher, Pottery Bowls, Sponge Ware, Champion Wash Water Pitcher, Cookie Jars, Isabel Bloom, China; Limoges Haviland Service For 12, Bavarian Germany "Berkeley Square" Service For 12 China, England Langley China Service For 6, "Brown Tea" China, Nippon, German China Statues/Figurines, (2) Kasuga Ware China Woven Bowls, Hair Savers, Wallace "Westward Ho Rodeo" Tea Pitcher, Depose Clown Statues, 1890s Haviland, Bavarian-Austria-England Hand Painted China, Rose Point China, Sugar Shaker, Tea Pots, Cups & Saucers, AJ Wilkinson Washstand Set, Reed & Barton Centennial Pitcher 1924, Hair Savers, Lefton, Sugar/Creamers, Bone Dishes, Butter Pats, Glass; Frosted Pitcher w/Glasses of Game Birds, High End Glass, Bohemian Glass, Bristol Glass, Several Signed Paperweights, Westmoreland, Fenton, Custard Glass, Art Glass, Pink/Green Depression, Cut & Lead Crystal, Vaseline Glass, Cut & Etched Glass, Victorian Cut Glass Salts, Blown Glass Animals, Glass Canister Set, Records; Huge Collection of 78s (Victor-Okeh- Bluebird-Tommy Dorsey Starmaker Set-Julius La Rosa & More), K&H Trumpet, Elkhart Trombone, Art; Leighton Jones Decoupage 6 Picture Set, 1901 Gossip Print, 1944 Paul Wood Print "Le Depart", Charles Russel Prints, Fredrick Remington Prints, Don Davey Litho Prints of New Orleans, Dave Russel Pastel, Other Nice Signed Paintings/Prints,
Military-Ammo-Vintage Hunting & Fishing Lures; WWI Army Uniform, WWI & II Uniform Patches/Medals, US Navy Trooper Hats, WWI & WWII Dog Tags, USMC Tins, Military Air Transport Manual, US Army Brass Whistle, Presentation US Flag, German Bayonet, Trench Art, WWII Utility Bag, Canteens, Photo Bat A 124th FA Camp Logan, Military First Aid Kit/Sewing Kit, .45 M1911 Ammo, .22 Hornet Ammo, .38 Ammo M41, 8x57 Mauser Ammo, .410 Super X Paper Shells in Box, 12 gauge Slugs, 77 Japanese Ammo, 9mm Ammo, Wildcat .22 Ammo, Boxes of .22 Ammo, Signed Hand Made Hunting Knife, Rare Dog Calendars-Complete Like New1955 Dupont Explosives "Palamonium" - 1959 Dupont Expl "Paladin Sue"- 1960 "Home Again Mike" Calendars, Calendar Tops Bird Dogs/Others, Creole Fish Basket, Large Selection of Vintage Fishing Lures (many in boxes) & Equip., Southbend Bamboo Flyrod #59-9, Garcia 2639 9' Flyrod, Vintage Rods & Reels, Dip Nets, Metal Minnow Buckets, Minn Kota Stalker Trolling Motor in Box, Seine
Appliances-Modern Furniture-Household-Misc; Dorm Refrig., Whirlpool Washer, Lift Chair, Sofas, Recliners, Round Kitchen Table/Chairs, White Ash Bedroom Set, Queen Cannonball Bed, Dressers, Hospital Bed, Single Beds, Night Stands, Wing & Arm Chairs, End Tables, (2) Flat Screen TVs, Lamps, Microwaves, 18 Qt Roaster, Small Kitchen Appliances, Cookbooks, Pots/Pans, Dish Sets, Bake Pans, Tupperware, Flatware, Blankets, Sheets, Towels, Sweepers, Sewing Machines, Kitchen Stool, Holiday Décor, Cleaning Supplies, Wheel Chair, Christmas,
Tools-Shop-Lawn & Garden; Very Old Black & Decker Saw Drill & Sand Kit, Carpeters Tools, Hand & Long Handled Tools, Pipe Wrenches, Alphabet Stamp Kit, Alum & Wood Step Ladders, Alum Ext Ladder, Pellet Rifle, Yard & Shop Chemicals
Auctioneers Note; A huge auction full of an outstanding collection of historical, rare & unusual items. Two/three auction rings will be ran. Still to determine what's selling on first day. Statements made day of auction supersede all others, oral or written.
TERMS: CASH-CHECK OR DEBIT NOT RESPONSIBLE FOR ACCIDENTS LUNCH STAND RESTROOM
Estate of Amber Learcher & Estate of Jim & Pat Perelli
Culver Auction Service Lic#440.000447 Greg Culver Farmington. IL 61631 ph:309-370-5305 -Tim Placher-Bill Homan Jr-Louie Grimes