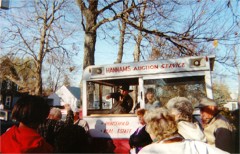 Committed to a high degree of service and integrity, Hannams Auction Service has served Galesburg and the surrounding area with pride since 1966. A complete auction-marketing firm, Hannams Auction Service specializes in the sale of real estate, antiques, farm machinery, household items, commercial liquidations and consignment sales. In order to offer our customers the most professional service available, we rely on college trained, licensed auctioneers including real estate brokers and licensed motor vehicle dealers.

Hannams Auction Service makes your auction experience a pleasant and smooth process by handling every aspect of your sale from listing to advertising, promotion, setup, proven sale procedures and timely settlement.

In addition to utilizing modern equipment, we offer indoor, year around facilities at Hannams Auction Center.

Contact the friendly and professional staff at Hannams Auction Service for a consultation concerning your auction marketing needs. Whether you are simply consigning a bit of merchandise or you need to liquidate a great deal of property immediately, we would be happy to discuss what our firm can do to serve you.